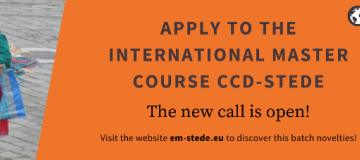 International master degree course CCD- STeDe
The first call for application for the new 2022-2024 CCD - SteDe programme is now open.

To apply: https://em-stede.eu/admission/application-procedure/
This is the only call with the possibility of requesting a scholarship.
 
STeDe prepares researchers and professionals to be able to help organizations acting in the territory (enterprises, local communities, civil society organizations, public administrations) to draft sustainable development policies for adaptation to climate change combining economic, social, environmental, international and intercultural dimensions.
Do not forget to apply to join our CCD - STeDe community
Write us a PM to receive more information
---

What is the new International Master's Degree Course CCD-STeDe?
From the XII edition the International Master's Degree is spreading world-wide, even more! You will have the possibility of choosing among 4 academics paths, combining English with Spanish, or Portuguese, or French!

Choose among:
 - Climate change, sustainability, development / Cambio Climático, Sustentabilidad y Desarrollo (University of Padova and Universidad Andina Simón Bolívar; teaching languages: English and Spanish)
 - Regional and local studies / Estudos Regionais e Locais (University of Padova and Universidade da Madeira; teaching languages: English and Portuguese)
 - Territorial management / Aménagement du Territoire (University of Padova and Université Joseph Ki Zerbo; teaching languages: English and French)
 - Environmental Management (University of Padova and University of Johannesburg; teaching languages: English and French)
Do not forget to apply to join our CCD - STeDe family
Follow this link to have more info on how to apply https://em-stede.eu/
Deadline: 1st of March