Brief overview

Degree type: Master degree

Course duration: 2 years

Total credits: 120

Language: English

Location: Padua, Italy

Course coordinator: Prof. Marco Marani
The Master's degree programme in Water and Geological Risks Engineering consists of a single study track, which includes the following courses.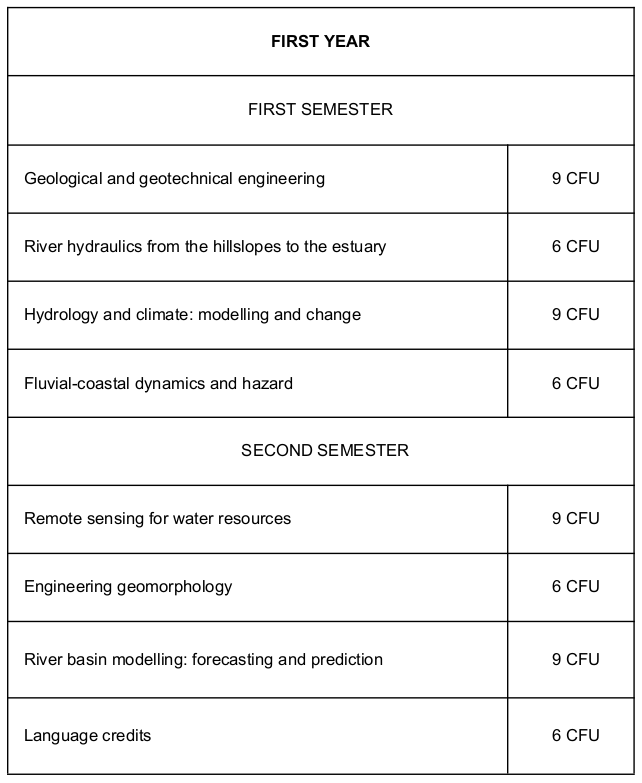 For up-to-date information, click here to access the Syllabus of the Master's degree programme.
Select the following settings:
- your year of enrolment, e.g. 2023/2024 (on the right corner of the page)
- "Second cycle degree courses"
- "School of Engineering"
- "Water and Geological Risk Engineering"
In the "Annex 3" link, you will find the up-to-date plan of study for the Master's degree programme.
List of elective courses (free choice):

Please note that this list of elective courses is not exhaustive. You can also choose courses from other degree programmes as well as other Departments of the University of Padua. The courses above are offered within the Master's degree programme in Water and Geological Risk Engineering
For each course, a number of credits is distributed which the students obtain by passing the respective exam. These credits define the student's workload, including time spent attending lectures, seminars, independent study, and examinations. The Italian University system uses CFU (Crediti Formativi Universitari) for which 1 CFU corresponds to 1 ECTS (European Credit Transfer and Accumulation System). The Italian system is adapted to the European credit system.

An overview of the transfer system is listed below:
1 Italian CFU = 1 ECTS credit
1 ECTS credit = 25 working hours (lectures and self study)
1 full year of study = 60 ECTS
1st cycle Degree (3 years Programme) = 180 ECTS
2nd cycle Degree (2 year Programme) = 120 ECTS